Profile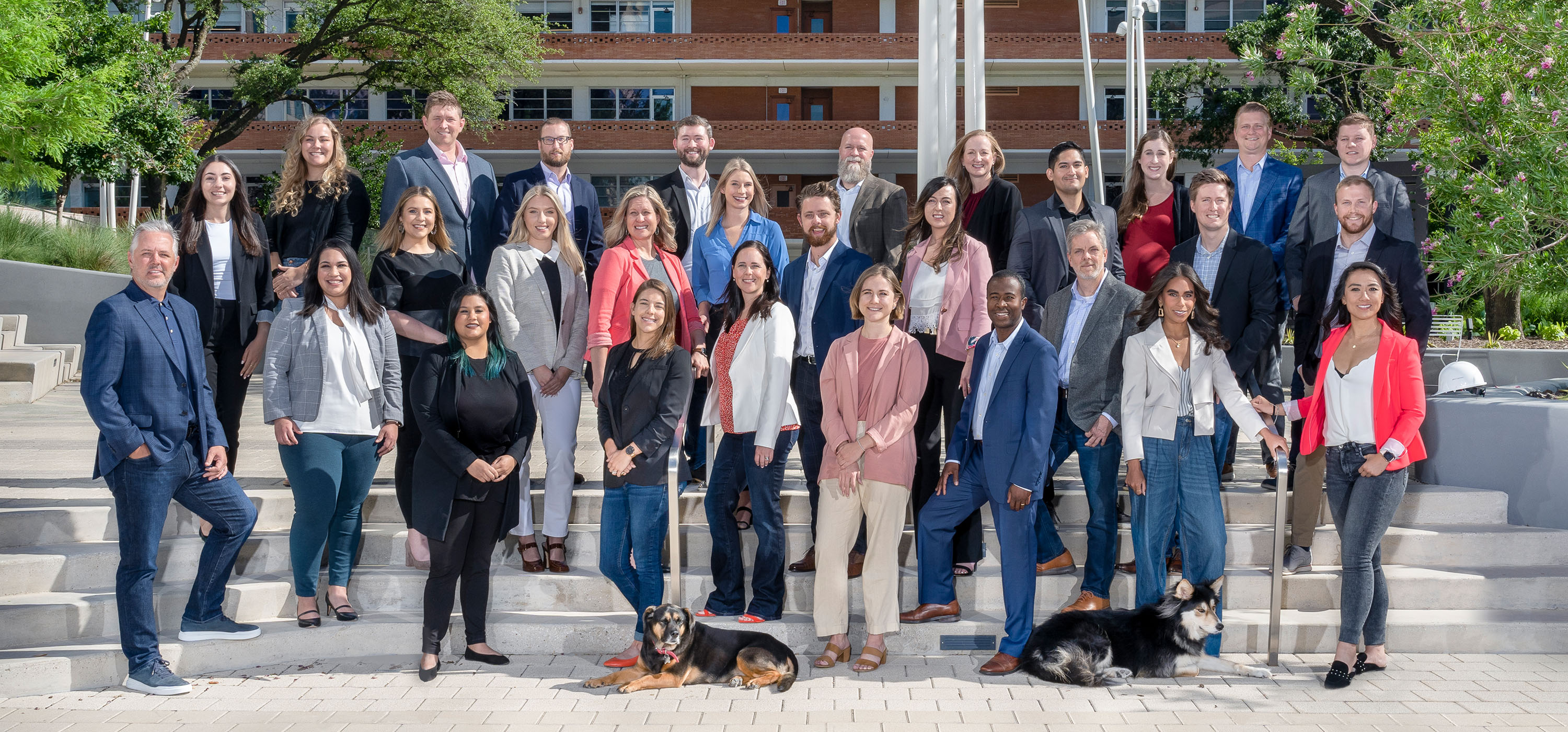 Glenn|Partners, founded in 2014, combines the expertise and leadership of Patrick Glenn with the design, technical, and management strengths of partners Briar Glenn, Dan Holt, Greg Estes, and Aaron Ewert. With 250+ years of collective experience, spanning 50 clients and 195+ successfully completed projects, our partners have planned more than five million square feet of educational space throughout Texas, totaling more than $2B in construction. Together, we are dedicated to our client's success in the pursuit of innovative and forward-thinking educational facilities that represent each client through a personalized design process that builds trust and long-lasting relationships.
Our core experience and passion is for K-12 education design, while our team's diverse experience contributes to the balance between Community, Education, and Work with the emergence of blended teaching modalities and collaborative learning styles. We believe learning spaces on educational campuses are more diverse than the traditional classroom. They are a place to play, a place to perform, a place to eat, a place to build relationships, a place to do business, and a place of public gathering. They are community.
vision
Glenn|Partners is a place of honesty, sharing, conversation, curiosity, support, innovation, and growth.
We believe

architecture is the built expression of ideas

, not simply the production of buildings.
We strive for a

simple + timeless design quality

that balances

form + function.

We cultivate a professional environment of

freedom to explore new ideas

and design methods.
We have fun because we believe in and support a

Life|Architecture

balance.
mission
Glenn|Partners

believe in the idea of

praxis

, a client inclusive, cyclical design process that

brings your ideas to life

.
Our design process involves a synergy of

thinking

,

exploring

, and

creating.

We

listen

,

engage

, and

create with our clients

in a

personalized design process

because
We believe our client's expertise, knowledge, and ideas are an integral component of each design.
glenn|partners is...
"your guide on the journey."
"your voice in the design process."
"your advocate in the community."
community involvement
ACE Mentor Program

Associate Board Member, 2014, 2015, 2016, 2017, 2018, 2019, 2020, 2021, 2022
Mentor Coordinator, 2011, 2012, 2013
Mentor, 2008, 2009, 2010

AIA Arkansas

Design Awards Jury, 2019

AIA Dallas

2B an Architect, 2011, 2012, 2013, 2014
Board of Directors, At Large Director, 2018
Board of Directors, Vice President of Programs, 2019
Career Fair Panelist, 2013
Design Award Committee Member, 2006
Educational Outreach Committee, Chair, 2011, 2012, 2013, 2014, 2019
Educational Outreach Committee, Member, 2017, 2018
Emerging Leaders Program, 2016
Home Tour Volunteer, 2011
Portfolio | Resume Workshop, 2013

AIA Dallas Educational Outreach Committee

Exploring Mentorship | Dallas ISD Pinkston High School, 2017

American Architectural Foundation (AAF) | Design for Learning Leadership Council

Member, 2014, 2015, 2016

American Architecture Foundation Design Charrette

WH Adamson High School, 2016

Architectural Precast Association

Awards for Excellence Design Jury Member, 2013

Association for Learning Environments (A4LE) | International Organization

LE Solutions Award Design Jury, 2018, 2019, 2020, 2021
Lifetime Achievement Award Jury, 2018, 2019, 2020, 2021
Pinnacle Project Award Design Jury, 2019

Association for Learning Environments (A4LE) | North Texas Chapter

Briar Glenn, Board of Directors, 2014, 2015, 2016, 2017, 2018, 2019
Patrick Glenn, Board of Directors, 2010, 2011, 2012, 2013, 2014, 2015
At Large Director, 2018, 2019
Member, 2003-2019

Association for Learning Environments (A4LE) | North Texas Chapter

University of Texas at Arlington
Educational Design Studio Speaker, 2017

Association for Learning Environments (A4LE) | Southern Region

Board Member, 2015, 2016
Board of Directors, Vice President, 2019
Board of Directors, President Elect, 2020
Board of Directors, President, 2021
Board of Directors, Past President, 2022
Conference Architectural Design Jury, 2015
Conference Planning Committee, 2014
Conference Programs Committee, 2014
Conference Programs Committee, 2019, 2022
Membership Chair, 2017, 2018, 2019

Dallas Center for Architecture

Board Member, 2011, 2012, 2013, 2014, 2015, 2016

CEFPI Southern Regional Conference Architectural Competition

Competition Judge, 2015

CEFPI Southern Region Annual Conference Planning Committee

Programs Committee, 2014

CEFPI North Texas Chapter

Board Member, 2011, 2012, 2013, 2014

Dallas Center for Architecture

Board Member, 2011, 2012, 2013, 2014, 2015, 2016

Dallas Center for Architecture | Form Follows Fitness 5K Run

Creator and Chairman, 2012, 2013, 2014, 2015, 2016, 2017, 2018, 2019, 2020, 2021

Dallas Independent School District | Hector P Garcia Middle School

Principal for a Day, 2007

Dallas Independent School District | Lipscomb Elementary School

Site Based Decision Making Committee
Community Member Representative, 2018, 2019
STEM Club Presentation, 2017
TREC and SBDM Committee, 2017

Dallas Independent School District | Leslie A. Stemmons Junior High School

Career Day, 2015

Dallas Independent School District | Zan Wesley Holmes Jr. Middle School

Principal for a Day, 2010

Discover Design | National High School Architecture Competition

Design Jury, 2012

Garland Independent School District | Montclair Elementary School

Career Day, 2018

Highland Park Independent School District | Highland Park High School

Environmental Science Senior Design Project
Guest Speaker and Design Jury, 2008

Kennedale Independent School District | Kennedale Junior High School

Career Day, 2017

Lewisville Independent School District

Architecture Program Juror, 2018

Northwest Independent School District

Architectural Design Student Competition Juror, 2019

Northwest Independent School District | Byron Nelson High School

Architectural Design Judge, 2018

Northwest Independent School District | Granger Elementary School

Career Day, 2020

Northwest Independent School District | Schluter Elementary School

Career Day, 2018

Oklahoma State University | School of Architecture

Design Jury Member 2003, 2004, 2005, 2009
Professional Advisory Committee, 2016, 2017, 2018, 2019, 2020, 2021

Old East Dallas Early Childhood PTA

Member, 2016, 2017, 2018, 2019

Richardson Independent School District

Architecture Program Juror, 2017

Richardson Independent School District

Richardson Mayor's Summer Internship Program, 2021

TASA-TASB Exhibit of School Architecture

Design Jury, 2017, 2018

Texas Society of Architects

Business Development Panel Discussion, 2014
research | presentations
A New Perspective for Architectural Education | A Performance Art

ACSA 98th Annual Meeting, 2010

Active and Collaborative Learning

Oklahoma State University, School of Architecture, Studio 2216, 2021

Architects and Engineers, Together Again | Hector P. Garcia Middle School

Oklahoma State University, School of Architecture, 2007

Architecture: An Experiential Learning Environment

University of Kansas School of Architecture | PhD Research Competition, 2012

Are You Ready to Make an Impact

Association for Learning Environments (A4LE) | Southern Region Conference, 2018

Collaborative Learning: How the Digital Age Shaped Planning/Design for Lamar High School

TASA-Midwinter Conference, 2017

Creating a Culinary Masterpiece

Association for Learning Environments (A4LE) | North Texas Chapter Meeting, 2014

Future of Education Design

Dallas Center for Architecture, Panel Discussion, 2016

District Perspectives on Innovative Facilities: Cedar Ridge High School, Round Rock ISD

UT / TASA Summer Conference on Education, 2013

Engaging 21st Century Learning Environments

Association for Learning Environments (A4LE) | Southern Region Conference, 2010

Effective Storm Shelter Integration Strategies: How to embrace these design challenges and construction costs effectively in your next school facility

Association for Learning Environments (A4LE) | Southern Region Conference, 2017
Texas Charter Schools Conference, 2017

Fostering Blended Work-Sharing Environments in Next Generation Schools

Association for Learning Environments (A4LE) | Southern Region Conference, 2018

Future of Education Design

Dallas Center for Architecture | Panel Discussion, 2016

Future of School Design

Richardson Independent School District | Facilities Oversight Committee, 2017

Future Ready / Experiential Learning: Exploring Schools to Provide Future Ready Learning Environments that Support the Education Mission

Association for Learning Environments (A4LE) | Southern Region Conference, 2014

Ghost Stories University of Oklahoma

University of Oklahoma | Creating_Making Conference, 2010

Hector P. Garcia Middle School

USGBC Building Tour Guide, 2007

How CTE is Transforming Educational Programs and High School Facility Design

Association for Learning Environments (A4LE) | World Congress on Educational Environments, 2012

ICC 500-2014 Design | Construction of Storm Shelters

Association for Learning Environments (A4LE) | Southern Region Conference, 2017

ICC 500-2014 Design | Construction of Storm Shelters

NTFSA, 2017

Innovate, Renovate, Educate

Association for Learning Environments (A4LE) | Southern Region Conference, 2011
TASA Mid-Winter Conference, 2012

Intelligent Sustainable Design Strategies for Schools

Association for Learning Environments (A4LE) | Southern Region Conference, 2009

Next Generation Athletic Facilities for Today's Athletes

Association for Learning Environments (A4LE) | Southern Region Conference, 2019

Next Generation Schools: Fostering Blended Work- Sharing Environments in next Generational Schools

Association for Learning Environments (A4LE) | Southern Region Conference, 2018

Next Generational Schools: Trends in Design of Private Schools

AIA Dallas Knowledge Forum, 2019

Not the Same Old Jungle Gym

AIA Dallas | Architecture and Design Exchange, 2017

Performance Space: Strategies for Contrary Ideologies

Association for Learning Environments (A4LE) | Southern Region Conference, 2019

Project Based Learning: Design of the 21st Century Classroom

Association for Learning Environments (A4LE) | Southern Region Conference, 2014

Rosemont Elementary School

Association for Learning Environments (A4LE) | North Texas Chapter Monthly Presentation, 2013

Student Portfolio Panel Discussion

Oklahoma State University, School of Architecture, 2014

Sustainable Design Strategies for Schools: Hector P. Garcia Middle School

AIA Oklahoma Annual Convention, 2008
Association for Learning Environments (A4LE) | North Texas Chapter Monthly Presentation, 2007
Greater Dallas Chamber, 2008
IPM and Green Schools Workshop, 2008
Live Green in Plano, 2008

Sustainable Design Strategies for Schools

TASA Mid-Winter Conference, 2008

The Death of the Textbook: How Student Needs and School Planning are Changing in the Digital Age

Association for Learning Environments (A4LE) | Southern Region Conference, 2013

The Death of the Textbook: How the Digital Age Shaped Planning & Design for Lamar High School

Association for Learning Environments (A4LE) | Southern Region Conference, 2016

The New Vo-Tech: Transforming 20th Century Vocational Workshops into 21st Century Learning Labs

Association for Learning Environments (A4LE) | Southern Region Conference, 2015

Transformative Design for Aging School Facilities: Bethany Elementary School

Association for Learning Environments (A4LE) | North Texas Chapter Monthly Presentation, 2016

Transformational Library Design for Today's High Schools

Association for Learning Environments (A4LE) | North Texas Chapter, 2019

Transforming a Community | Amon Carter Riverside High School

Association for Learning Environments (A4LE) | Southern Region Conference, 2021

Trends in Design for Education

Building Professional Institute, 2019

Understanding Storm Shelters: A Contractor Perspective

Joeris Construction, 2019

Vision 2020 and Beyond: Instruction X Construction

Association for Learning Environments (A4LE) | Annual Conference and Expo, 2014

You've Got 5 Minutes Kid

AIA Dallas | Education Matters, 2018

You've Got 5 Minutes Lady

AIA Dallas | Women in Architecture, 2018

Zan Wesley Holmes Jr Middle School

Association for Learning Environments (A4LE) | North Texas Chapter Monthly Presentation, 2012